REPORTED BY STEVE CUBS | In the women's event  there was success for some of the recent and current Hong Kong junior women's team.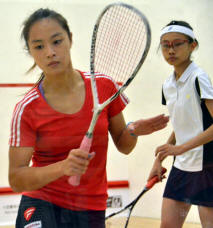 Carmen Lee, just graduated from juniors, was too strong for Ho Tze-Lok, but Choi Uen-Shan took a close four-game encounter against Malaysian Pushppa Devi and Lee Ka-Yi won a five-game see-saw encounter with Elise Ng, who was making a return to action after recently retiring from the tour (the watching Christina Mak couldn't be persuaded to do the same!).
Tong Tsz-Wing and Karman Siu boosted the numbers of the HK young brigade in tomorrow's qualifying finals, and while a number didn't make it several of them gave good accounts of themselves.
Former European Junior Champion Carrie Ramsey had to work hard too, to beat Pansy Chan in four games; Olga Ertlova was grateful she'd built up a 10/4 lead in the third against another HK youngster Chu Ka-Hei (the Czech thought she should have had a stroke at that point) because the final half-dozen rallies were very, very tough as Chu almost made it all the way back; and Lauren Selby had a tough time too, needing four games and 55 minutes to see off the challenge of Ho Ka-Po. "I'm not feeling too fresh today," admitted a relieved Englishwoman who arrived from Macau this morning.
That left Hong Kong with representation in five of tomorrow's women's matches which are sure to draw another big, supportive and noisy crowd …
More reports, quotes, photos on TODAY in Hong Kong: www.squashsite.co.uk/hk/today.htm
RESULTS
Women's Qualifying Round One:
Coline Aumard (Fra) bt Ho Ka Wing (Hkg) 11/3, 11/4, 11/4 (19m)
Olga Ertlova (Cze) bt Chu Ka Hei (Hkg) 11/3, 11/9, 11/8 (40m)
Carmen Lee (Hkg) bt Ho Tze Lok (Hkg) 14/12, 6/11, 11/9, 11/5 (38m)
Anaka Alankamony (Ind) bt Isabella Bersani (Usa) 11/6, 11/8, 11/4 (19m)
Misaki Kobayashi (Jpn) bt Carin Clonda (Est) 11/1, 11/1, 11/6 (11m)
Uen Shan Choi (Hkg) bt Pushppa Devi (Mas) 10/12, 11/9, 11/9, 11/8 (27m)
Lee Ka Yi (Hkg) bt Elise Ng (Hkg) 11/2, 11/13, 12/10, 11/4, 11/7 (33m)
Lauren Selby (Eng) bt Ho Ka Po (Hkg) 11/7, 9/11, 12/10, 11/6 (55m)
Tong Tsz-Wing (Hkg) bt Sin Kei Tsang (Hkg) 11/6, 11/1, 11/2 (15m)
Carrie Ramsey (Eng) bt Pansy Chan (Hkg) 11/8, 4/11, 11/2, 11/4 (38m)
Karman Siu (Hkg) bt Ho Ching Chan (Hkg) 11/5, 11/5, 12/10 (17m)
Qualifying Finals:
Siti Munirah Juson (Mas)  v Coline Aumard (Fra)
Olga Ertlova (Cze) v Carmen Lee (Hkg)
Tania Bailey (Eng)  v Anaka Alankamony (Ind)
Misaki Kobayashi (Jpn) v  Uen Shan Choi (Hkg)
Lee Ka Yi (Hkg)  v Lauren Selby (Eng)
Siyoli Waters (Rsa)  v Tong Tsz-Wing (Hkg)
Sina Wall (Ger) v Carrie Ramsey (Eng)
Kylie Lindsay (Nzl)  v Karman Siu (Hkg)