RESULTS: Women's Cathay Pacific Sun Hung Kai Financial Hong Kong Open, Hong Kong
1st round (lower half of draw):
[8] Madeline Perry (IRL) bt [Q] Mariam Ibrahim Metwally (EGY) 11-6, 7-11, 11-2, 11-6 (30m)
[11] Omneya Abdel Kawy (EGY) bt Siyoli Waters (RSA) 14-16, 11-4, 11-6, 11-6 (40m)
Nour El Tayeb (EGY) bt [14] Dipika Pallikal (IND) 15-13, 11-6, 11-2 (34m)
[3] Raneem El Welily (EGY) bt [WC] Liu Tsz-Ling (HKG) 11-7, 11-6, 11-8 (21m)
[Q] Emma Beddoes (ENG) bt [6] Low Wee Wern (MAS) 8-11, 12-14, 11-3, 11-8, 11-5 (72m)
[12] Annie Au (HKG) bt [Q] Yathreb Adel (EGY) 11-9, 7-11, 11-8, 4-11, 11-2 (68m)
[13] Rachael Grinham (AUS) bt [Q] Salma Hany Ibrahim (EGY) 11-9, 13-11, 11-5 (31m)
[2] Laura Massaro (ENG) bt [Q] Coline Aumard (FRA) 11-2, 11-8, 11-9 (26m)
English qualifier Emma Beddoes pulled off one of the biggest wins of her career when she beat sixth seed Low Wee Wern in today's opening round of the Women's Cathay Pacific Sun Hung Kai Financial Hong Kong Open, the WSA World Series Gold squash event at the Hong Kong Squash Centre.
Despite the 17 world ranking positions which separate the pair, Beddoes and Wee Wern have endured five-game battles in all three of their previous Tour encounters, with the world No8 from Malaysia going into today's match 2/1 ahead.
And 23-year-old Wee Wern took the opening two games, before the plucky 28-year-old from Nottingham began to take the upper hand before closing out the match 8-11, 12-14, 11-3, 11-8, 11-5 in 72 minutes.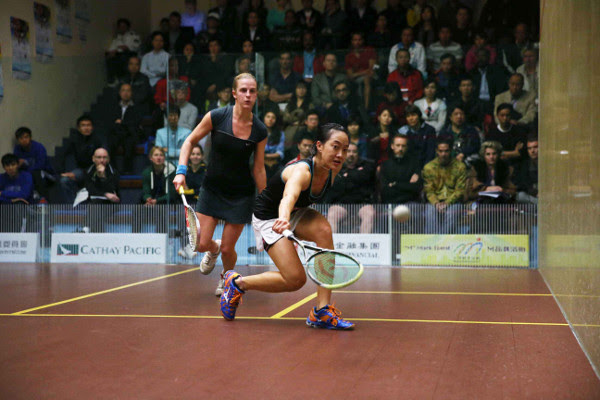 "She is such a talented fighter, and we always have tough battles," admitted Beddoes (pictured above with Low, foreground) to www.squashsite.com later. "And on such a cold court, it was all about who would take the initiative, although the rallies were very long.
"But I knew it was there. I had been playing well lately – I was waiting for a good result on the WSA. And here it is.
"I'm really proud actually, coming back from 2/0 down against a top 10 player, really proud. And I'm also very happy I have a day off tomorrow!"
Egypt's Nour El Tayeb also recorded an impressive upset when she defeated India's in-form 14th seed Dipika Pallikal 15-13, 11-6, 11-2.
"I'm happy with my performance, because I've been training very hard, and the hard work is paying off," said the jubilant 20-year-old from Cairo afterwards. "Beating Dipika is very important for me, because she's had some really great results lately, and it's even sweeter because it's my first time ever in Hong Kong!"
But it was 12th seed Annie Au who produced the day's most popular win when she overcame Egyptian qualifier Yathreb Adel. But the 24-year-old Hong Kong number one was taken the full distance before finally seeing off the 17-year-old from Cairo 11-9, 7-11, 11-8, 4-11, 11-2 in 68 minutes.
Au, the world No16 (pictured above with Adel) now faces Beddoes for a place in the quarter-finals.
After a shock first round exit in the 2012 championship, England's world No2 Laura Massaro earned a confidence-boosting opening round victory today when she beat French qualifier Coline Aumard 11-2, 11-8, 11-9.
In her tenth successive appearance in the event, the No2 seed will now face Australian veteran Rachael Grinham, the 13th seed and former champion who has played in all 12 events since 2001! The 36-year-old Queenslander defeated 17-year-old Egyptian qualifier Salma Hany Ibrahim 11-9, 13-11, 11-5.
Official event website: www.hksquashopen.com