RESULTS: Women's Cathay Pacific Sun Hung Kai Financial Hong Kong Open, Hong Kong
Quarter-finals:
[1] Nicol David (MAS) bt [5] Jenny Duncalf (ENG) 11-4, 11-3, 11-3 (24m)
[4] Alison Waters (ENG) bt Joshana Chinappa (IND) 12-14, 11-7, 11-3, 11-6 (41m)
[3] Raneem El Welily (EGY) bt [11] Omneya Abdel Kawy (EGY) 11-8, 11-9, 11-4 (30m)
[12] Annie Au (HKG) bt [2] Laura Massaro (ENG) 11-6, 11-5, 9-11, 11-9 (50m)
Hong Kong squash star Annie Au thrilled the Women's Cathay Pacific Sun Hung Kai Financial Hong Kong Open crowds at the Hong Kong Squash Centre today when she upset England's world No2 Laura Massaro in four games to claim a surprise semi-final berth in the WSA World Series Gold event for the second time in three years.
The Hong Kong number one, ranked 14 places below the No2 seed, went into the match 5-2 down in Tour clashes with Massaro since their first meeting in the 2008 Hong Kong Open. But Au had won two of the recent three meetings – including the most recent at the World Series Finals in London in January.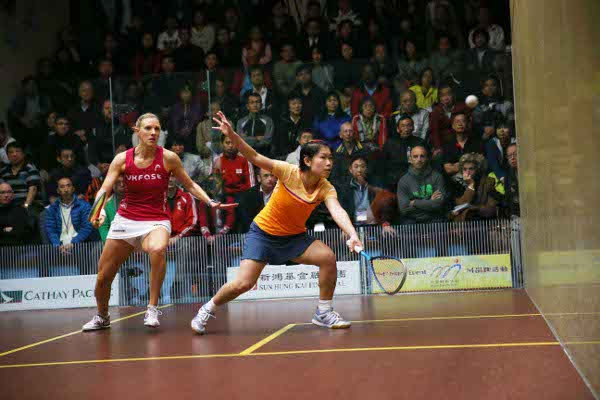 And, spurred on by the packed and partisan crowd, left-hander Au (pictured above with Massaro) used all her skill and knowledge of the court to hold off her 30-year-old opponent, eventually winning 11-6, 11-5, 9-11, 11-9 in 50 minutes to earn a place in the semi-finals – when the event moves onto an all-glass showcourt at the Hong Kong Cultural Centre at the Hong Kong harbour.
"I feel really happy," 24-year-old Au told www.sport-asia.com later. "The feeling is really great because for the second time I'll be playing on the glass court in Tsim Sha Tsui. Last time it felt really amazing to play over there, so to get there a second time makes me really happy.
"This is definitely the biggest win of my career," continued the 12th seed. "Laura has been performing really well for the past few months and now I beat her and I feel more confident in myself. My confidence is back because my ranking has dropped this year so I was a bit disappointed."
Au now faces Egypt's Raneem El Welily, the third seed who was runner-up in her last appearance in the championship in 2011.
The world No3 from Cairo defeated compatriot Omneya Abdel Kawy, the 28-year-old world No13 who reached the final in 2009, 11-8, 11-9, 11-4 in 30 minutes.
"Playing Laura was the expected thing, but obviously Annie played well," said El Welily. "I haven't played her in a long time and obviously she's the crowd favourite so I hope I play well."
The Alexandria-born 24-year-old will return to the Tsim Sha Tsui venue for the second time in three years. "It's really beautiful there. It's really nice. I can't wait."
Malaysian star Nicol David extended her formidable record in Hong Kong by notching up her 43rd successive win in the event over the past decade. The world number one, going for a ninth title in a row, took just 24 minutes to see off England's No5 seed Jenny Duncalf 11-4, 11-3, 11-3 in a repeat of the 2010 final.
David will renew her rivalry with a second English opponent, Alison Waters, in the semis. Six times a quarter-finalist since 2007, Londoner Waters earned only her second ever semi berth when she beat surprise unseeded opponent Joshana Chinappa.
The 11-time Indian champion from Mumbai was celebrating her first ever appearance in the last eight of a World Series event after upsetting the No7 seed Natalie Grinham and 15th seed Line Hansen in the previous two rounds.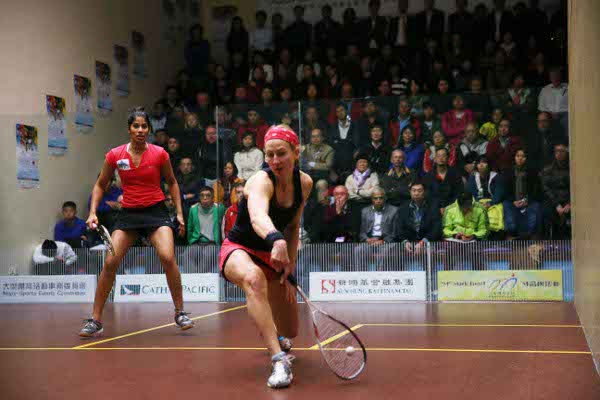 Chinappa (pictured above, left, with Waters) carried on where she left off by tasking the first game against Waters. But the world No4 recovered to win 12-14, 11-7, 11-3, 11-6 after 41 minutes.
Semi-final line-up:
[1] Nicol David (MAS) v [4] Alison Waters (ENG)
[12] Annie Au (HKG) v [3] Raneem El Welily (EGY)
Official event website: www.hksquashopen.com